Whole DZH biomass boiler system includes grate, boiler body, economizer, dust collector, flue, air duct, induced draft fan, blower, slag remover, loading machine, water pump, deaerator, etc.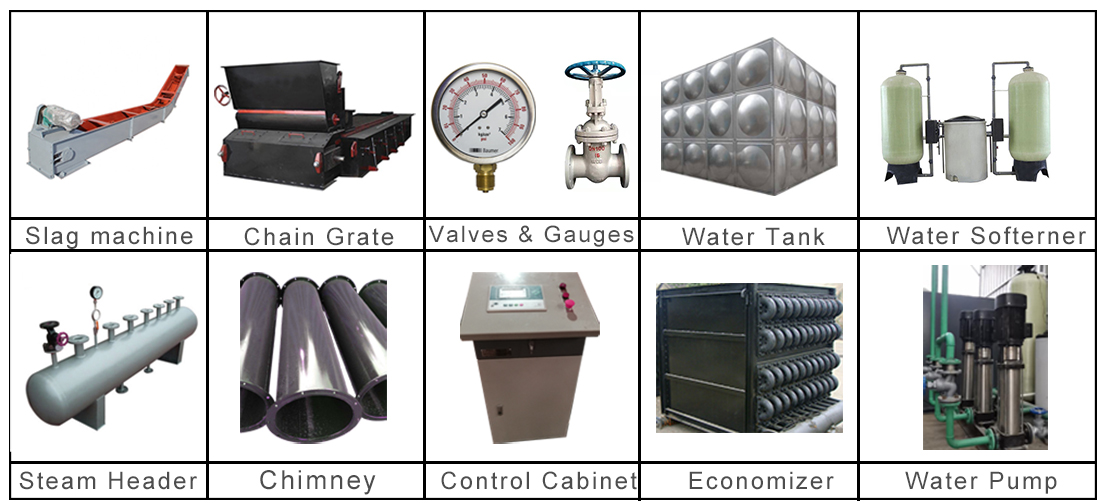 1. Grate ---- Based on the fuel characteristics (size, humidity, and volatility, etc.), equipped with different grate, such as fixed grate, chain grate, and moving grate, etc. The chain grate could divided into small flaker grate, chain belt grate, bar grate.
2. Air Pre-heater ---- For the fuel with high humility, could equipped with air preheater, uses the waste heat of flue gas to heat the air, and improve the combustion condition, decrease heat loss form incomplete combustion heat loss.
3. Water Treatment Equipment ---- Based on the water quality, could equipped with different water treatment equipment, generally, there are soften water treatment and reverse osmosis water treatment equipment.
4. Secondary Air Device ---- Based on the fuel characteristics, could equipped secondary air device, to decrease the heat loss of incomplete combustion, improve boiler thermal efficiency.
5. Electric Control Cabinet ---- Customers could choose PLC or touch screen control cabinet, also, the brand of electric elements could be designated.
6. Variable Frequency Motor ---- The boiler could adopt variable frequency water supply pump, blower fan and induced draft fan, etc., save energy and decrease operation cost.
7. Shell Color ---- Customer could designate the color of boiler shell, elegant appearance.