1. Large Heating Area
1) Horizontal pipes increase the radiation heating area, the flue gas pass through the forced convection tube bundle longitudinally, fully absorb the flue gas heat, decrease exhaust gas temperature, high thermal efficiency.
2) Low fuel consumption, compare with the older boiler, save 25%~30% energy.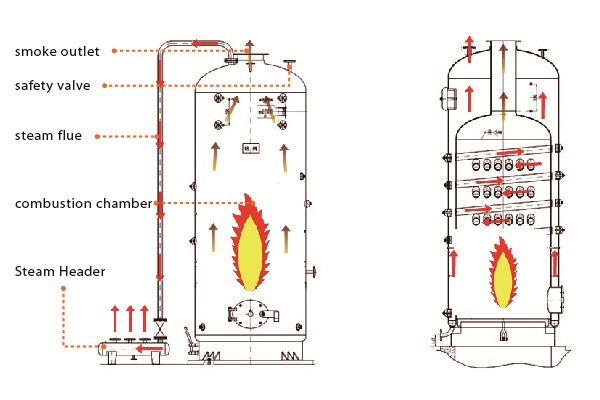 2. Multi-pass structure
high heat transfer efficiency, moreover, the dust in flue gas can be removed naturally without ID fan, save energy.
3. Insulating Layer
The boiler uses aluminium silicate board for heat preservation, low heat loss. Moreover, the shell could adopts stainless steel, the appearance is much more delicate.
4. Natural ventilation
The steam boiler is natural ventilation, do not need ID fan and draft fan, operate quiet.
5. Economizer
Economizer could be arranged at the tail of boiler to improve the thermal efficiency.
6. Compact Structure
The boiler is vertical type with small steam capacity, small footprint, easy to install, low investment. Moreover, the temperature and pressure rise-up quickly.