Central heating system is to provide hot water or steam to the whole interior of a building from one heat source to multiple rooms. The whole system includes three parts: heat source, heat supply network, and heat user. The main heat source could be regional boiler plant. Generally, the industrial regional boiler plant uses steam boilers, for heating, drying, steaming, cleaning, cooling, melting during industrial production. While the civic regional boiler plant uses hot water boiler, to offer heating, ventilation, air-conditioning, and hot water supplying.
WNS series oil gas fired packaged boiler could be used for central heating. It is a kind of safe and high efficiency heating equipment with full automatic control system. This series packaged boiler is horizontal type fire tube boiler with three pass structure, it has compact structure, small volume, strong load adaptability and low water quality requirement. This boiler adopts wet wet back structure, it can adapt to the high temperature, has a good sealing, increase the radiation heat transfer area and improve the heat transfer efficiency.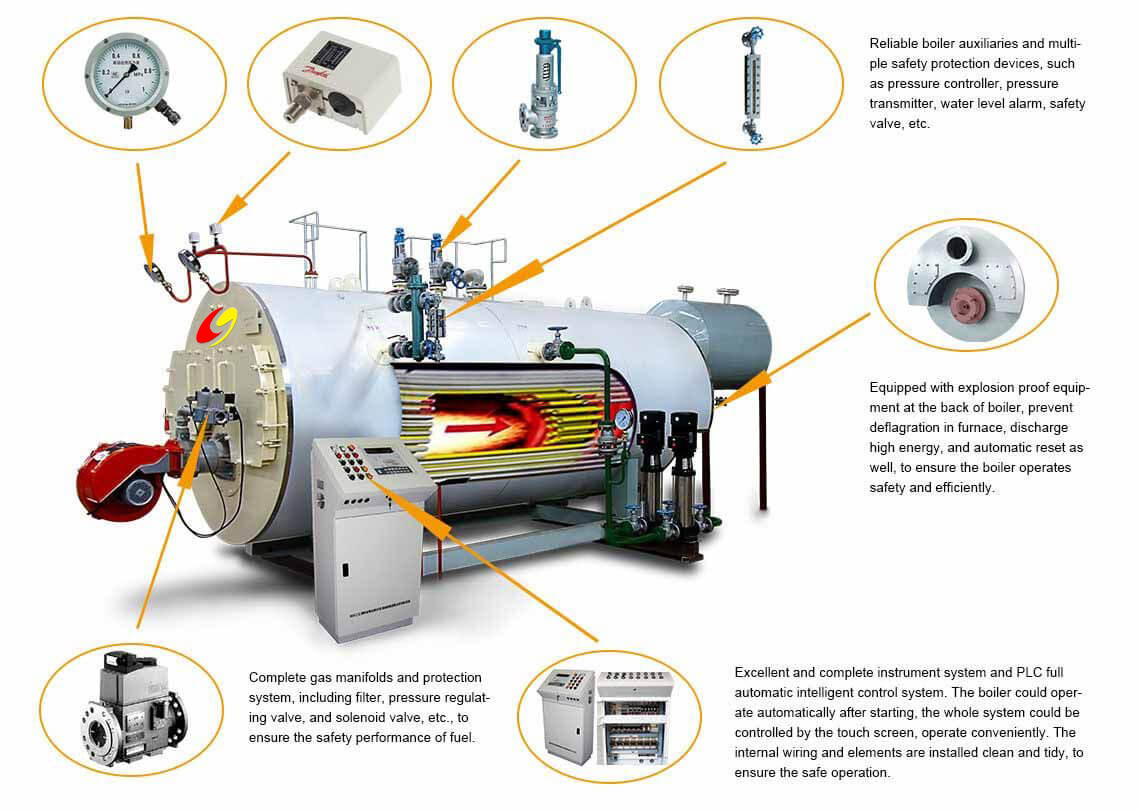 Features:
1.Compact structure, small volume, strong load adaptability and low water quality requirement;
2.The steam boiler have horizontal structure,so the thermal efficiency is higher;
3.It has the three returns design, so exhausted smoke temperature is low;
4.Adopted the latest technology, it is designed with a combustion chamber with large volume.It is equipped with a world-known burner,making the combustion more sufficient and ensuring higher efficiency and lower failure rate.
5.It adopts advanced corrugated furnace pipe structure,increasing the heat surface area, and satisfying free expansion of the furnace pipe after heating.
6.It adopts wet back structure with high reliability and low maintenance cost.The wet type flue gas flow and compact structure to prevent the tube plate cracking,Science and calculate the heated area, output assured;
7.It has protective functions of overtemperature, overpressure, water shortage, leakage detection and flameout, ensuring safe and reliable operation.Double pressure gauge, water level gauge, safety valve, double assurance, escort for the safe operation of boiler.